Welcome to the
ROSWELL Wiki
About
The Story
When Liz is fatally shot, Max risks everything to heal her, exposing a secret that he's kept for years: that he awoke as a child from stasis years after the 1947 UFO crash that brought him to Earth. And he's not the only one.
The Roswell series follows the lives of several aliens and humans in Roswell, New Mexico, and notably the relationship between Liz and Max. Max and others struggle to balance their human lives with keeping the secret from those who would find and hurt them.
The Series
The series began as Roswell High, young adult sci-fi novels written by Melinda Metz. The novels were later adapted into the 1999 TV series Roswell which ran for three seasons. The series was reimagined for a second TV series in 2019 titled Roswell, New Mexico, which is currently airing.
The Wiki
Roswell Wiki is a free and collaborative encyclopedia for the Roswell series, including the Roswell High novels, the Roswell (1999) TV series, and the new Roswell, New Mexico (2019) TV series. It is run by fans and is in no way affiliated with Warnerbros or The CW.
TV series News
Roswell, New Mexico has been renewed for a third season! It will consist of 13 episodes.
Season 2 premiered on Monday, March 16, 2020 at 9 p.m. on The CW with the episode Stay (I Missed You). It is currently airing new episodes on Monday nights.
Catch up!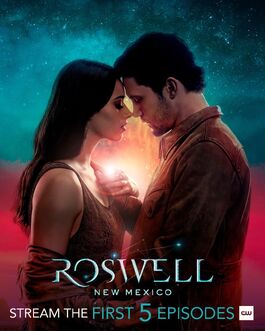 CW App
The last few episodes of Roswell, New Mexico are available streaming for free on the official CW app.
Netflix
The full first season is now
available on Netflix.
If it is not available in your country, you can request the show.
Affiliates

To become an affiliate,
contact an admin.