"All your father wanted to do was to help this world out. And they hung him on a cross for it"
―Hubble on James Valenti
James Valenti, Sr. is a recurring character on Season 1 of WB sci-fi series Roswell.
Character
[
]
A former Sheriff of Roswell, James spent his life attempting to prove that aliens are real.
The Roswell Incident (1947)
[
]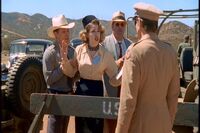 After serving in World War II, James joined the Roswell Sheriff's Department. Deputy James Valenti was at the scene of the Crash in the summer of 1947.[1] Over the next twelve years, James became a father (Jim Jr., born 1951) and eventually Sheriff of Chavez County.
Among Us (1959)
[
]
On November 16, 1959, Sheriff James Valenti Sr. discovered the corpse of James Atherton.[2] That same year, Valenti investigated the death of an actress who died from a freak lightning strike during the filming of They Are Among Us in Roswell. According to makeup artist Bess Covendall, Valenti's investigations caused 'quite a stir'.[3] Valenti's efforts to uncover the truth earned him the ridicule of the F.B.I. and the nickname "Sgt. Martian". His eight-year old son Jim Jr. was an eyewitness to his father's growing obsession.
The Silo Murder (1972)
[
]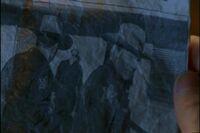 In 1972, Valenti met Everett Hubble. Valenti learned that Hubble's wife was killed in the same manner as Atherton; the killer leaving no marks other than a silver handprint. Hubble convinced Valenti that the killer had disguised himself as a drifter, and the two men tracked the suspect to a silo. Hubble shot the drifter, but Valenti took the fall. Valenti lost his job as Sheriff, beginning a slow slide into dementia.[4] Jim Valenti, Jr. was eventually forced to put his father in a home, where his visits have since become less and less frequent.
Notes and references
[
]